At On The Level we have 21 years of experience creating bespoke wet room floor solutions to overcome a range of different client challenges. Take a look through some of the unique solutions available from On The Level.
1. Wet room floors for bathroom pods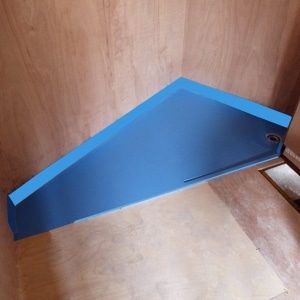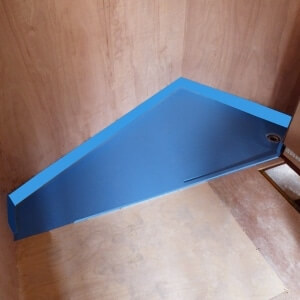 Challenge: Speed up bathroom pod production schedule whilst maintaining high standards and consistency for a unique shaped design.
Solution: On The Level created a bespoke shaped wet room former incorporating two gradients, forming a down-and-round 'bend' path, forcing water around the former and into the gully.
The formers were also created with upstands to make it easier to accommodate the bathroom walls, a leading edge for a shower screen to fit onto and were delivered fully waterproofed to speed up time at the client's factory even further.
2. Dual Outlet Former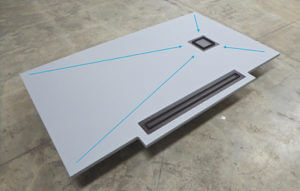 Challenge: Eliminate any possibility of water escaping the wet room onto extremely expensive bespoke flooring in the adjacent room.
Solution: A large former was created with an increased gradient from the norm, and for added peace of mind a linear drainage channel was placed in each doorway, in addition to the primary gully underneath the shower head.
3. 'L' shaped Level Access former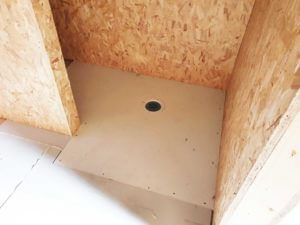 Challenge: Avoiding run-off water escaping the shower zone when a shower curtain is used.
Solution: A bespoke 'L' shaped former was created to exact requirements to ensure that the shower curtain is always within the shower tray zone.
4. A mixture of stock and bespoke sizes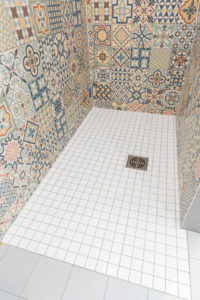 Challenge: Whilst the majority of wet rooms could accommodate stock sized formers, 3 required something a bit different.
Solution: Something On The Level are proud to be well-known for is our ability to create a wet room former to suit our clients exact size and gully position requirements. Our flexibility to offer this service alongside our standard sized formers provided this hostel project with the perfect product solution.
5. Complete shower and toilet block floor system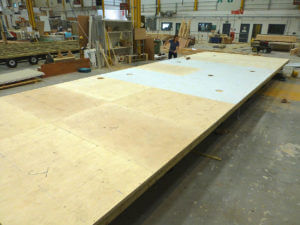 Challenge: Incorporating 5 wet room cubicles into a shower block.
Solution: To provide the complete floor. In one of our largest project to date, this 41 x 14 feet complete floor was built on a transportable chassis. The flooring system created could accommodate toilets, washroom floors, as well as 5 sloping wet room cubicles. The final structure was then built upon this complete floor system.
6. Different floor build ups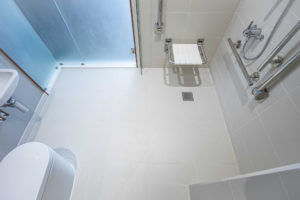 Challenge: Finding an easy to fit solution which can work on timber joists as well as concrete base.
Solution: The OTL Complete, made-to-measure, interlocking floor system was used to provide speed and ease of installation of the bathroom floors, and is suitable to sit on top of timber joists or positioned directly on top of a concrete base.
7. Pre-coated with vinyl sheet flooring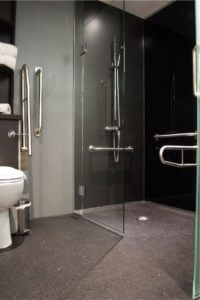 Challenge: Provide a consistent solution for a hotel chain, that reduces on-site labour time and cost.
Solution: The custom made Level Access wet room floor system is pre-coated with vinyl sheet flooring at On The Level's factory, making it quick and easy to fit onsite once dispatched.
8. Large bespoke wet room former for cast concrete floor finish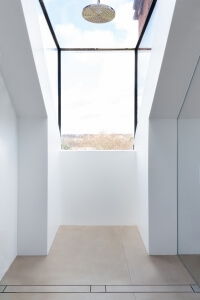 Challenge: Creating a wet room floor for a large bespoke shaped room that is suitable for a cast concrete floor finish.
Solution: Creating a bespoke shape or size is second nature to On The Level, as our formers are made out of FSC certified ply wood, we are able to cut to any design requirements. To ensure no standing water was left in this large wet room, the former incorporated 2 separate linear channels.
9. Effective drainage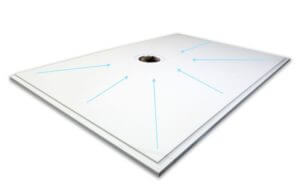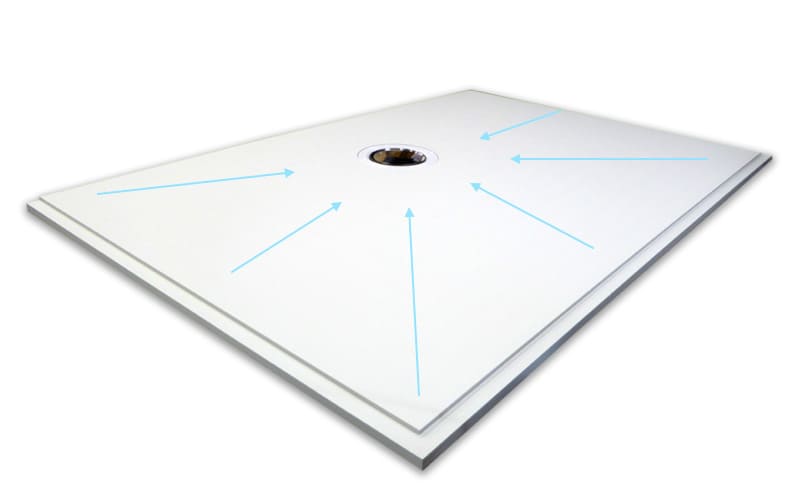 Challenge: Avoid water escaping the shower area into the rest of the bathroom.
Solution: Create a former which exceeds the size of normal stock sized formers, creating a gradient over the complete floor area from the door into the shower room, meaning that all water will run towards the gully outlet.
10. Urgent bespoke requirements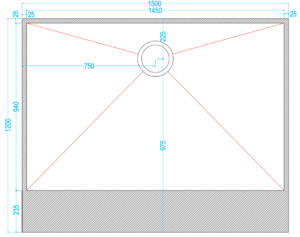 Challenge: To ensure a healthcare facility was up and running within weeks, a quick turnaround on a bespoke project was required.
Solution: Bespoke wet room floors are our speciality, and made from great quality ply wood they can be precision cut on our state-of-the-art machines in our UK factory. Therefore, we are able to deliver bespoke orders within days.
11. Delivering orders in multiple phases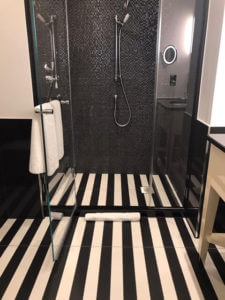 Challenge: Ensuring products are available at the right time in a hotel refurbishment project, where rooms were being refurbished in phases to reduce the number of rooms out of action.
Solution: On The Level worked closely with the project manager and site manager to understand the program schedules, and manage delivery lead times, delivering the bespoke wet room floors in multiple phases to fit around the refurbishment program.
12. Shallow floor build up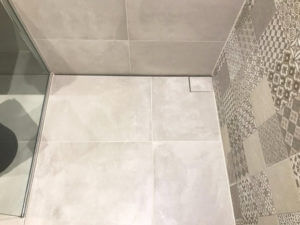 Challenge: The floor build up was too shallow to fit a horizontal gully.
Solution: On The Level were able to provide vertical gullies and the waste was then underslung to the concrete slab below.
13. Avoiding underfloor obstacles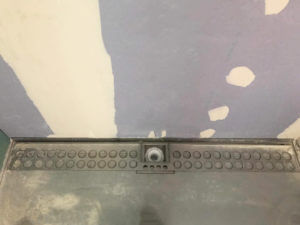 Challenge: Avoiding structural obstacles
Solution: As we offer a bespoke former and channel fabrication service we were able to change the waste position to a central location to avoid structural obstacles.
14. Large drain off area outside shower cubicles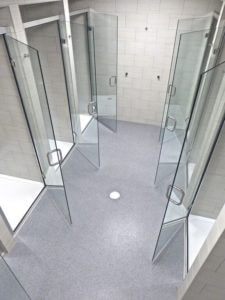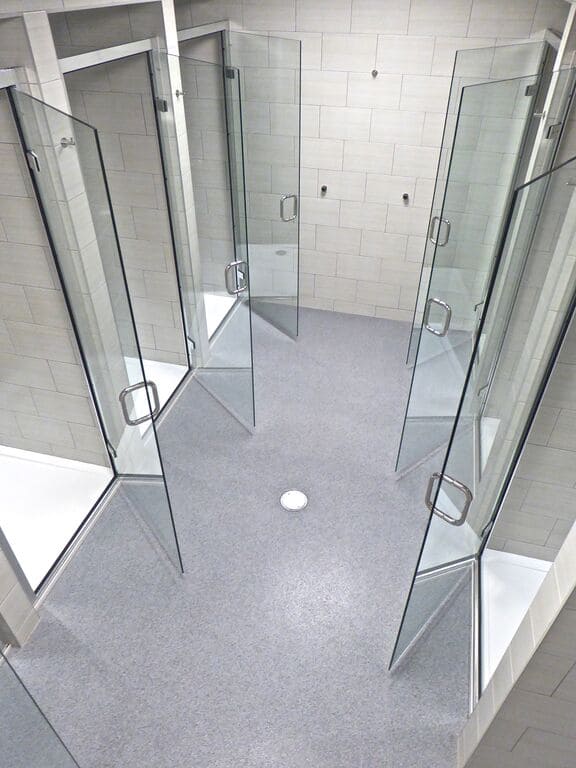 Challenge: Find an alternative to using inaccurate panelled materials, which are subject to movement after completion, to create a large drain off area outside shower cubicles.
Solution: The OTL Complete Level Access floor can be used to create a perfect gradient over a large area, guarantying sufficient water floor to the gully. The floor is made from incredibly strong ply-wood for fantastic structural integrity.
15. Volumetric modular build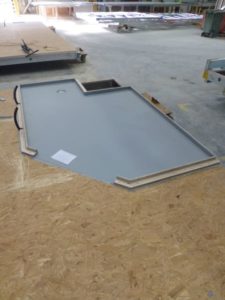 Challenge: Reducing installation time for a volumetric modular build.
Solution: Providing our client with the OTL Ultimate Modular wet room floor solution. Cut to the exact size required, wall upstands added to the perimeter floor edges, gully installed, and OTL Tanking applied before sending to our client.
16. Level Access and Strong enough for mechanical hospital bed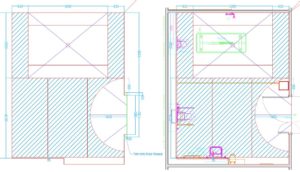 Challenge: Needing a very large wet room floor to accommodate a special hospital bed, and step free access into the room.
Solution: Providing a OTL Complete wet room floor system. The bespoke floor was produced in sections, which were numbered a bit like a puzzle, for ease of installation. Due to the large scale of the wet room floor area, a 30mm thick former was used to provide an adequate slope for sufficient drainage. To ensure the entire floor area was level access, a ramp was built into the OTL Complete floor at the threshold of the room.
17. Drainage for excess water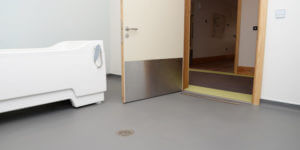 Challenge: Due to the nature of some student's disabilities, some students are showered on a shower trolley and therefore a solution is needed to contain the water in one place.
Solution: The bespoke OTL Complete Level Access wet room floors for vinyl sheet flooring provide the correct falls for water to drain away effectively. A secondary gully was also positioned at the threshold of the wet room to provide drainage for excess water running off wheelchair wheels.
18. Unique 6mm mosaic tile
Challenge: Required a wet room system suitable for a 6mm mosaic tile.
Solution: Due to the unique tile mosaic thickness for this particular design, OTL developed and manufactured a bespoke linear channel drain, able to accommodate the 6mm thick tiles.
19. Floor support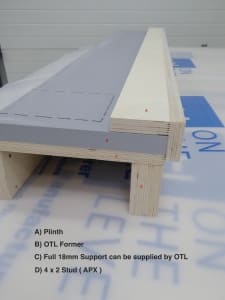 Challenge: To create a strong, rigid supporting surface for the former.
Solution: A full floor support using 18mm Marine Plywood was made and supplied by OTL to accommodate the bespoke OTL former.
20. Suitable for Resin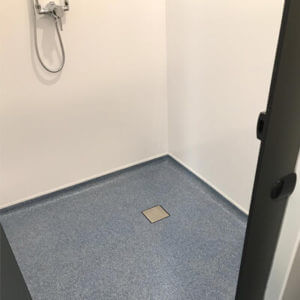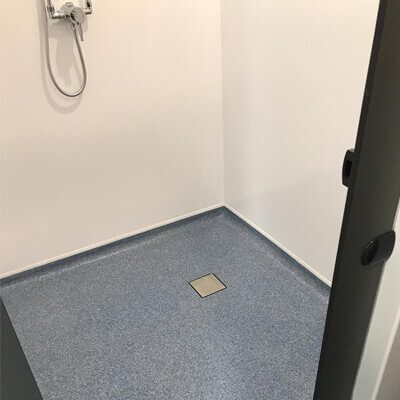 Challenge: Creating the perfect falls in a wet room suitable for resin floor covering.
Solution: The OTL Resin formers provide the perfect gradient built in to ensure water will be efficiently removed from the shower area. The formers have been specifically developed for use for Resin floor coverings.
21. Wet room floors on concrete slab

Challenge: Reduce noise, mess and time when adding a wet room floor onto existing concrete floor.
Solution: The OTL Complete wet room floor solution can lay directly on top of the existing concrete floor, with no need to create a recess in the slab. As well as creating falls in the floor for the shower area a gradient can be created to form a ramp from each doorway, going from 6mm at the entrance to 24mm to allow trolleys and beds to be easily wheeled and manoeuvred into the wet room.