The UK's Specialist Wet Room Floor Manufacturer
On The Level manufacture and supply the very highest quality standard and bespoke wet room and level access shower solutions to the Trade and Retailers.
Our market leading wet room flooring systems lead the way in design for the trade and commercial sectors, and our customers include some of the UK's best known major contractors, project managers, architects, interior designers and building companies. Our products are used in thousands of major construction projects, hotels, hospitals, care homes, gyms, student flats and many more.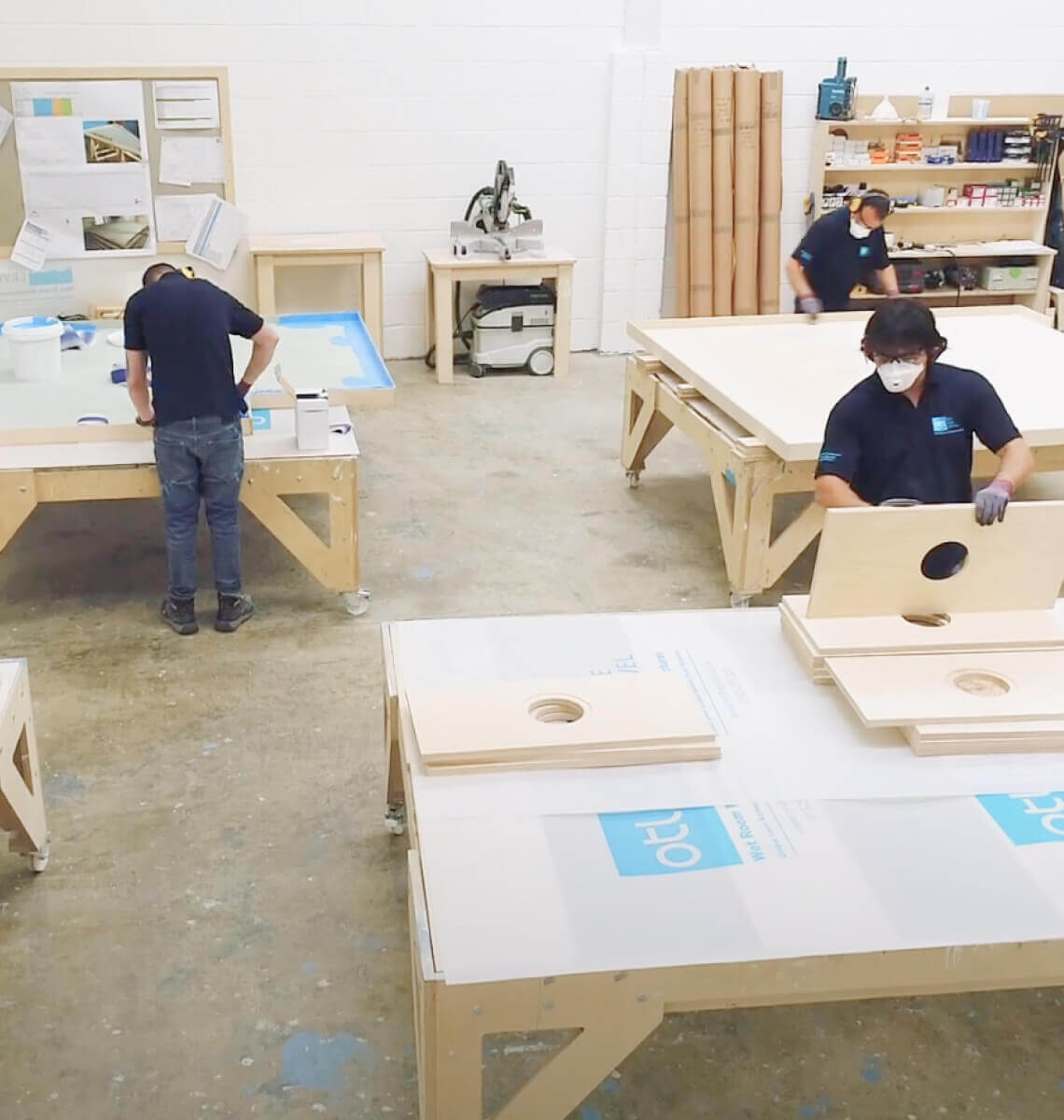 Reasons our trade customers keep coming back:
A specialist, bespoke service where flooring can be made to fit your size requirements however specific or unusual
Experts in modular build for large scale projects
Lifetime guarantee on all our wet room formers
Exceptional customer service from start to finish
Installation advice available for all our products
A manufacturing company founded on over 30 years of bathroom fitting and wet room experience
Next working day delivery on standard sized items
OTL's unique wet room flooring trays, also known as wet room formers, bring ultimate water control to wet room design. Manufactured from hardwood plywood, OTL formers bring inherent toughness and dependability to wet room construction, crucial for project managers, architects and residential installers.
Our passion for wet rooms goes back to the 1980's when Phil Clark, company founder and inventor of the patented OTL shower room former, first started to see the need for a radically more effective kind of flooring. Thirty years spent installing shower areas for local authorities gave him the insight and experience to develop the revolutionary OTL floor tray, or 'former', engineered to the most exacting standards.
Precision in manufacture underpins the perfect gradient needed for the quick flow of waste water, and every one of OTL's shower formers has it. Advanced technology at the company's Leighton Buzzard manufacturing premises has been fulfilling high demand for formers for over 15 years. With more than 50 different sizes for all types of floors always held in stock and ready for next day delivery, OTL leads the UK wet room market. Our confidence in the product is such that we offer a lifetime guarantee on all our manufactured wet room formers.
Made in Britain

We are proud to manufacturer our products right here in the UK. Our factory and office is based in Leighton Buzzard, and our experienced team are on hand to answer any questions. We are also more than happy to visit your site to provide expert advice, or we would welcome you to our factory to learn more about our processes.
FSC Certified

We understand the importance of using and supporting sustainable sources of plywood. The wood used to produce all our formers is sourced is FSC® certified, creating an environmentally sound product manufactured to the highest standards in the UK.
Shoulders, Falls and Tile Cuts
Our wet room floor formers come in a range of falls, this video provides a really useful guide as to the difference between a 1-way, 2-way and 4-way fall. It also explains how to work with trimmable shoulders and the tile cut finishes for different fall options.
Why Choose On The Level?
Bespoke really is our standard. We listen to our customers requirements and create a product to suit them. We are constantly innovating, and creating wet room floor solutions to help speed up project timescales.
Formers Made from FSC Certified Material
Our wet room formers are made from a natural, breathable material; again finished by hand. Any imperfections are taken out in manufacture before they are dispatched, ensuring a perfect product every time. If it's not right it doesn't pass our strict quality control department, and doesn't get sent to the client, instead it will be remedied or replaced.
High Quality Channels & Grates
All of our products including our channels and grates are all manufactured and hand finished in the UK from the highest grade stainless steel available on the market.
The OTL tanking membrane is an extremely pliable yet thick, rubberised compound which allows for the natural movement of any building, ensuring no cracks will appear in your expensive tiles. Other tanking systems available can tend to be quite ridged and do not allow for the natural movement of buildings, causing problems for the user later down the line.
Paul Bowal
Senior CAD Technician
Owen Hinds
CNC Programmer and Operator
Chris Scott
Production Assistant
Louis Ward
Production Assistant
Gemma Samuel
Marketing Content Creator