Wet Room Floors for Homeowners
We have over 20 years' experience working with homeowners to realise their design aspirations and goals, whilst creating a functional bathroom space. We aim to take the uncertainty and apprehension away from a bathroom project by providing advice and specialist wet room floor solutions that fit around their needs.
Bespoke Project?
We are specialists at solving tricky design problems and creating unique, bespoke sizes and shapes.
Wet Room Advice
Call us on 01525373202 to ask our experienced team for advice.
We've been working with homeowners for over 20 years.
Here at OTL we're really proud of the high quality of our products. That's because we know that high quality is critical to the projects that our homeowner customers work on. Now, it's true that you can't see much of our products once they've been fitted, but you don't need to worry about something going wrong because all our manufactured formers come with a lifetime guarantee for your added peace of mind.
We specialise in precision built flooring solutions to fit any size project, with standard and bespoke options available. Our homeowner clients rely on us to provide formers to their exact measurements – and we don't fail to deliver. All our formers are produced within a 1mm tolerance so even if you don't see what you're looking for, please don't hesitate to get in touch to see if we can help you with your project.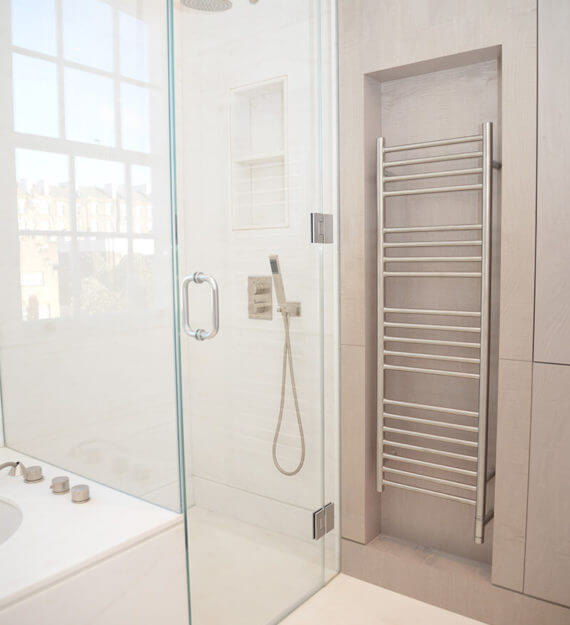 Just some of the benefits homeowners find when using On The Level:
We just need a couple of dimensions to provide a quote for your wet room former. And as specialists with many years of experience, we are also on hand to provide expert advice and guidance for you to achieve the best wet room solution.
Products to suit all budgets
Our product range offers high-quality solutions to suit a range of budgets and customer preferences. From the more traditional and affordable Square system, a stylish mid-range Linear and SuperSlim Tile-In, to the luxurious and unique INFINITY I-Line.
Our wet room floors are easy to install, with PDF and video instructions making each step easy to understand, and a UK team at the end of the phone for any questions you or your chosen installer may have.
Our 1-way and 2-way fall former options also have 50mm trimmable shoulders allowing you to recess the former easily under the wall and butt up to the rest of the bathroom floor.
For complete flexibility, our bespoke service can create a former to the exact size you require, and we can also move gully positions so they can be located to avoid any underfloor obstacles. There is no need to design a wet room around a product, allow us to design a product fit for your exact requirements!
Our stock wet room formers are available for next day delivery when ordered before 2pm, and any bespoke formers are available within just 5-7 working days.
Confidence in our products
Tried and tested, suitable for creating a wet room on any level within a building (from basement to loft), you can have 100% confidence in our products and our waterproof claims. This is backed up by our lifetime guarantee on shower formers and a 10-year tanking system guarantee.
Contact Us:
Fill out our contact form or contact us directly by emailing [email protected] or calling or specialist team on 01525373202:
For more information
To discuss your wet room plans
To get a quote
Hear what some of our clients have said about our service: