Level Access formers are available in bespoke sizes to fit your project
WHY MIGHT I NEED BESPOKE?
Obstacles such as central heating pipes, gas pipes, odd joists, etc. can all pose problems to what should be an easy install. Luckily, our specialists are used to all these scenarios and can produce a bespoke solution for your project.
BESPOKE FORMER OPTIONS:
We can manufacturer bespoke Level Access formers to any size.
We can produce a bespoke former in a thicker material – up to 30mm thick, ideal for larger shower floors.
We can position the waste to where you require to fit with your floor build up.
DELIVERY
With a quick 5-7 working day turnaround on bespoke formers you can be sure to have the perfect former for your project without any hold ups to your project.
HOW TO MEASURE A BESPOKE LEVEL ACCESS FORMER.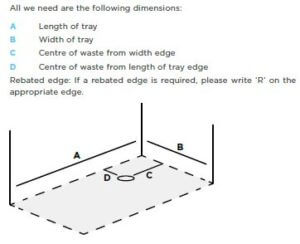 LEVEL AREAS
You may also require an extra bit of level area on your former, either because the next flooring joist is a little out of the way, or you want the joins on the wet area to be further away from the rest of the bathroom floor for added peace of mind – whatever your reason, we can manufacture a former to fit, simply let us know where you'd like an additional level area on your former.