With more people choosing to shower rather than bathe, wet rooms continue to grow in popularity. Let's take a look at the key trends for 2022 to give you a little bit of inspiration.
Microcement in Wet Rooms
A versatile product which can be used from floor to ceiling, as well as on countertops, to create a stunning, modern design. Microcement provides a seamless waterproof and durable finish, which is easy to clean and comes in a variety of colours and finishes.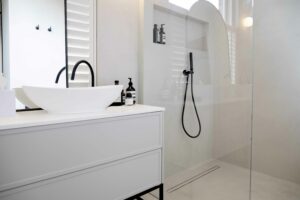 OTL SuperSlim for Microcement 
Bathroom Lighting
Getting the balance of light right in the bathroom can ensure it works well for all desires. Having good quality lighting near mirrors to be able to see properly will make performing tasks within a bathroom such as shaving or applying make up easy.
Lights can also be used to create the right ambience in the room, whether you want to wake up and feel refreshed, or chill out and relax. Having a couple of different options or a light that is dimmable will allow you to change the atmosphere of the room to suit your mood.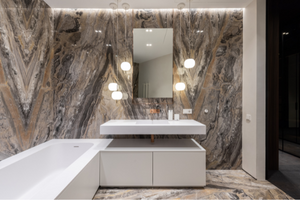 Clever use of lighting within a bathroom
Bringing in nature
Good for both the environment and for your well-being, adding plants to a room can change its dynamics and provide positive health benefits. A natural setting can help you to unwind and relax, providing a calming sanctuary to shower in.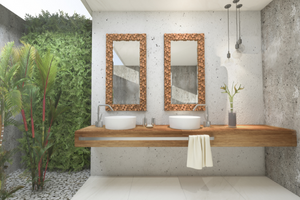 Bringing the outside in
Statement Tiles
Make a statement and put your own design stamp on your home. Bold colours and graphic circular tiles will be popular in 2022 creating visual intrigue and a unique look.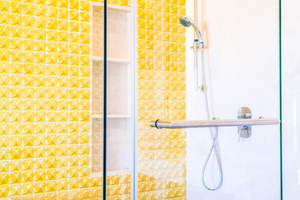 Bold tiles create interest in the room
Clever Storage
Clear away the clutter and organise your room by maximising the storage space available. Using a combination of bathroom shelves and storage units all your bathroom essentials can be close to hand but stored away tidily. Make the most of the floor space within a wet room by choosing a wall mounted cabinet, for an uninterrupted floor covering throughout.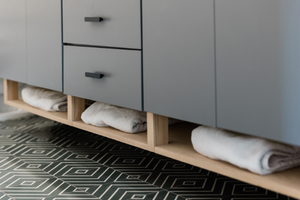 Maximise bathroom storage 
Natural Textures
Reduce your impact on the environment as well as reducing your the exposure to chemicals by choosing natural, organic products within the bathroom. Choosing eco friendly products will help to rid your bathroom of plastic, as well as being more gentle on your skin.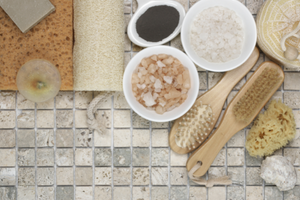 Using natural products within the bathroom
Bath within a Wet Room
For a luxurious as well as practical space, add a bath within a wet room.  The room instantly becomes multi-purpose, cleverly uses the space available, and allows two people to share the room at the same time.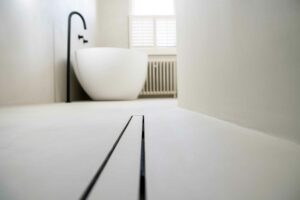 A wet room and bath within the same space
Earthy Tones
A colour trend set to propel itself forward in 2022 is the use of earthy colour tones within the bathroom. Luxurious and minimalistic, natural tones create a calm and welcoming atmosphere that does not date.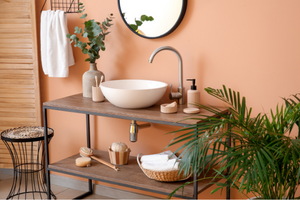 Earthy tones within a bathroom