SUITABLE FOR
ANY SPACE
Practical and easy to install, the OTL Square provides great flexibility to design a wet room to suit any taste or budget.
The Square former incorporates the perfect gradient for water to flow efficiently towards the channel, layered over with tanking, tile adhesive and tiles, leaving a stylish stainless-steel square grate on show.
OTL Plywood former, manufactured with a built-in gradient – directional to the channel – creating the perfectly shaped wet room floor.
Variety of outlet gullies to choose from
Classic square grate, with a choice of designs available
OTL Tanking, specifically developed to eliminate the problem of leakages.
Tile adhesive
Tile finish, the 4-way fall is suitable for large format (mitre cuts) or mosaic tiles.
WHATS INCLUDED
Components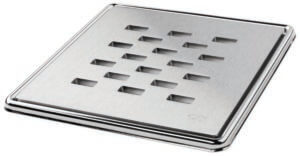 GRATE
A variety of grating designs in brushed or highly polished stainless steel available, as well as a bespoke colour match service for a unique look.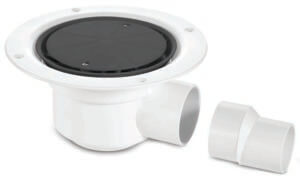 GULLY
The 48 litres per minute (LPM) horizontal gully as provided as standard. However, you do have the option to switch to a number of other gully options.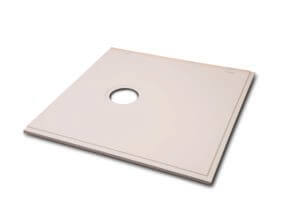 FORMER
Available in a range of stock sizes, or bespoke to suit your exact size and gully position requirements. The 4-way fall former allows for complete level access and can be used with mosaic and large format tiles.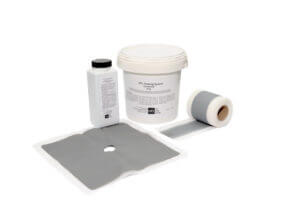 TANKING
The Square tanking kit comes with everything you need to waterproof your wet room project. For larger rooms you may need extra bits, and these tanking accessories can be purchased separately.
4-Way Fall
Our Square formers are available as a 4-way fall option only. Integrated falls come from each corner of the former, and work well with larger bathroom areas.
This video explains visually the 4-way fall and the tile cut finish required.
Suitable For
SECTORS
Suitable for all settings, including residential new builds or renovations, hotels, hostels, gyms, spas, care homes, prisons and student accommodation.
FLOOR TYPES
The Square former can be used on any floor build up, be it timber joists, concrete or beam and block.
FLOOR FINISHES
The 4-way fall is perfect for use with mosaic tiles, however it is also compatible with large format tiles (mitre cuts required).
UNDERFLOOR HEATING
Compatible with wet or electric underfloor heating.
Electric mats sit on top of our former (not laid within 300mm of waste) and wet systems (pipes with water running through them, connected to main central heating system) should be laid underneath the former.
Installation
OTL wet room floors are easy to install. We have to hand PDF instructions, an installation video, and help at the end of the phone from our friendly team.
The 4-way fall former will butt up against the floor on all sides, providing complete level access.
Cleaning & Maintenance
It is recommended that regular routine maintenance should be carried out at least every 3 months (this may need to be done more frequently depending on usage).
OTL provide you with all the tools you need to make regular cleaning quick and easy.
Our maintenance guide can be found in our downloads section.
Technical Drawings & Guides
For technical drawings and guides please follow this link