OTL produce plenty of offcuts, so earlier this year our Marketing Manager went to visit the Elizabeth Woodville School near Milton Keynes to see exactly how they make use of our donations of birch ply offcuts. We spent a good couple of hours at the school with Mike Pearce, head of Design Technology, and the year 13 students who were presenting their A-Level work. We also had the pleasure of meeting a couple of the Year 12 students who were working on their designs for the following school year.
To say we were impressed with the quality of the work was an understatement; every single student had come up with an idea for a usable product – from a weight bench, to a bookshelf chair, to a table and lamp – the items we saw were truly an inspiration and extremely well made. The students openly spoke about the projects, how and why they had the idea, how they found using the wood, and their plans for the future, as many were off to Uni in a couple of months.
Thanks to everyone at the school for a wonderful day, and we can't wait to see next year's projects come to life!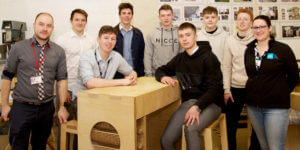 Here's what the students had to say about working with our ply offcuts:
Charlie Skippen – Year 13
Product: Home gym
"The wood that On The Level donated was crucial for my product production; if it wasn't for the 30mm ply wood my product would have lacked the strength it needed to function correctly."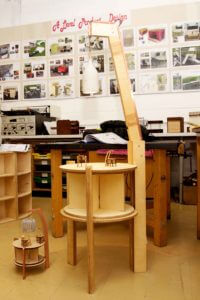 Christopher Barnes – Year 13
Product: Garden wine table and stools
"I really enjoyed using the 30mm wood given to us by On The Level. It gave me much more freedom when designing my product in comparison to the 9mm wood we otherwise would have used. There were some difficult challenges around joining and cutting the wood, especially making the circular port hole windows, but this gave me more creativity when going about these processes."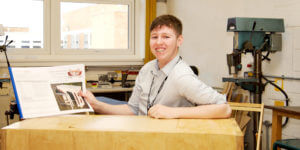 Harry Thompson – Year 13
Product: Tool storage unit
"I enjoyed using the 30mm plywood in my project as it provided the required strength of the unit without any extra support. It was a great opportunity to improve my skills of working with thicker wood as my school wouldn't have this option normally."
Edward Kucewicz – Year 13
Product: Bedside table
"I found the 30mm plywood offcuts donated by On The Level essential to designing and creating my unique bedside table. It helped the design remain sturdy and keep in line with the industrial aesthetic, contrasting well with the concrete lamp shade and copper pipes."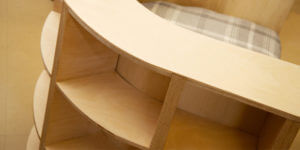 Alex Meadowcroft – Year 13
Product: Multi-functional book storage chair
"The offcuts were a great opportunity to work with the thick 30mm plywood as normally we wouldn't get the chance to use wood of this size and quality. I was able to create strong, upright pieces improving both function and aesthetics. It also developed my skills to work with thicker wood giving me a strong basis to use in my future studies and career.
Jack Rockingham – Year 12
Product: The cloak room tidy
"I have not yet used the 30mm wood that you have given us as I am currently in year 12 and I am looking forward making my project after the holidays".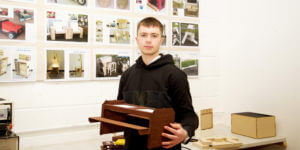 Ashley Gill Year – 12
Product: The picnic table/sandpit
"I am yet to use the 30mm offcuts, but I am looking forward to using it is strong and built to last which makes it extremely useful for outside products that people and heavy objects will be placed on."