A bank holiday weekend presents a great opportunity to get odd jobs around the home completed as well as time to give everything a deep clean. Ticking off your to-do list will provide a great sense of satisfaction and will set you up for the weeks ahead.
Well used bathrooms and wet rooms require regular cleaning to combat the effects of a warm and damp environment. However, the projects suggested below will help to keep your room organised and in tip top condition, in addition to your usual weekly cleaning routine.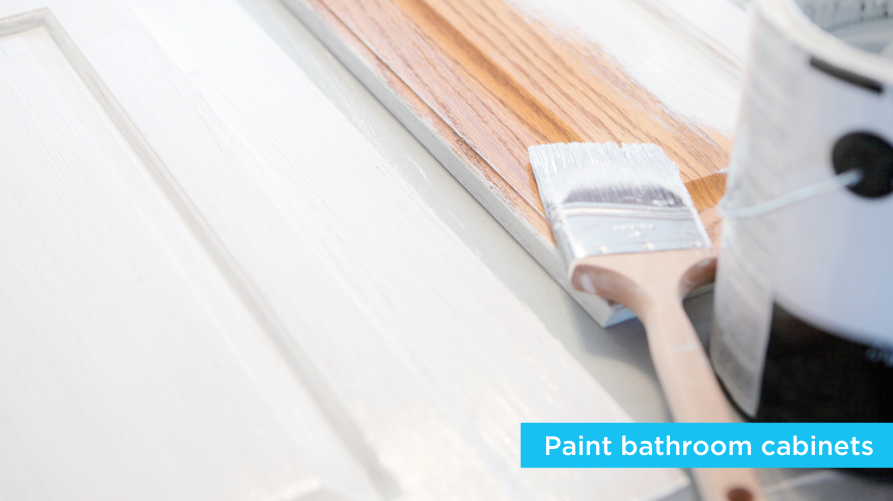 Paint bathroom cabinets to give them a refresh
An inexpensive way to modernise and refresh your bathroom is to paint older bathroom cabinets and vanity units. This quick and easy project can make your bathroom feel like it's brand new once again.
It's important to empty the cabinet or vanity unit first, remove existing handles, and detach the doors, then properly prepare the surfaces by cleaning, sanding then wiping away the dust.
Apply a primer first and give it plenty of time to completely dry before applying a suitable bathroom paint.
Picking a paint which can cope with a moist and humid environment is important to maintain it's appearance and prevent mildew from building up on the surface.
Once a few coats have been applied and dried it's now time to reassemble the cabinet and reattach either new or existing handles.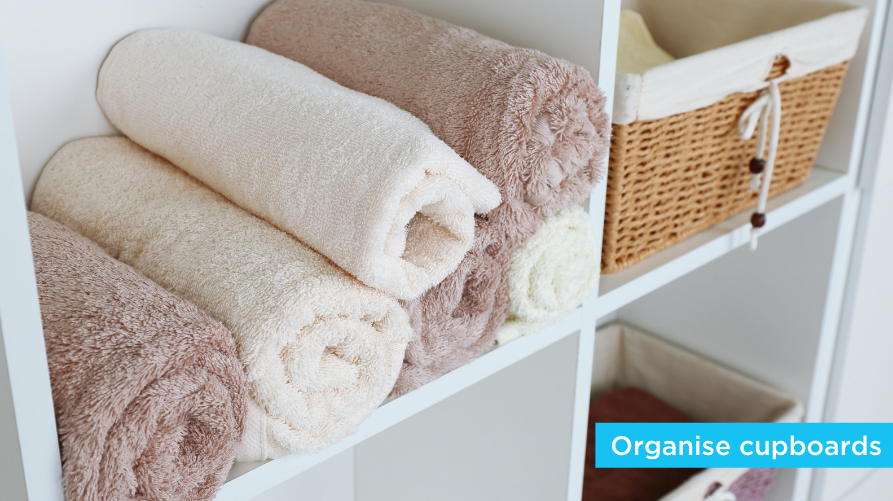 Organise cupboards
Use your time to declutter and organise the contents of your bathroom storage. A clear cupboard equates to a clear mind!
Remove everything from the shelves and give them a clean with warm soapy water and a disinfectant to remove any germs.
Safely dispose of any out-of-date medicines, first aid supplies and toiletries. Then take a full inventory of the remaining contents, writing up a shopping list of any bathroom toiletries and cleaning products you need. This will avoid you over buying and keep you organised for the future.
Regrout tiles
As grout ages and is exposed to bathroom conditions it can begin to crack and become discoloured. Regrouting the tiles in the bathroom can transform the room, making it look as good as new once again.
Depending on the state of the current grout you may be able to refresh by using a grout reviver or grout pen.
However, if the condition of the grout isn't great, then it's best to remove the old tile grout and start afresh.
Removing old grout is a dusty process, so remember to wear a dust mask and protective eyewear, as well as protecting other surfaces in the bathroom with dust sheets and covering plug holes to avoid them getting blocked.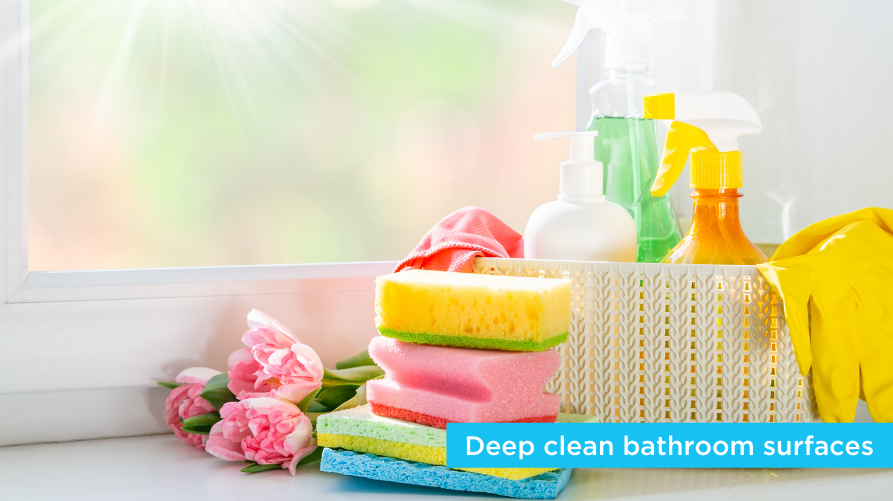 Deep clean bathroom surfaces
Wipe down areas that often get overlooked during your more routine cleaning regime. Take a damp microfibre cloth and wipe down the skirting, tops of doorways, window ledges, light switches, cabinet, and door handles.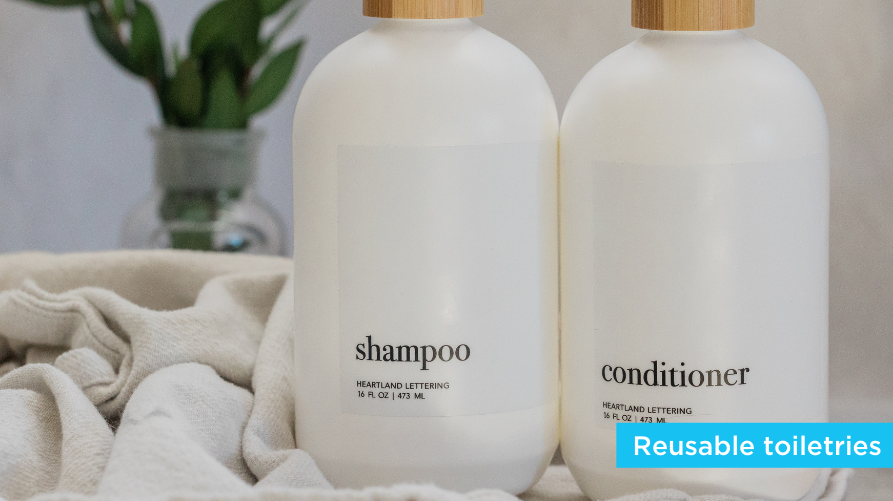 Style your bathroom with re-usable toiletry bottles
As well as being kinder to the environment by purchasing refillable products and decanting them into reusable bottles, it can also give your bathroom a high end look for less. Use bottles which compliment the colour scheme of your bathroom and add labels to easily and stylishly identify the contents.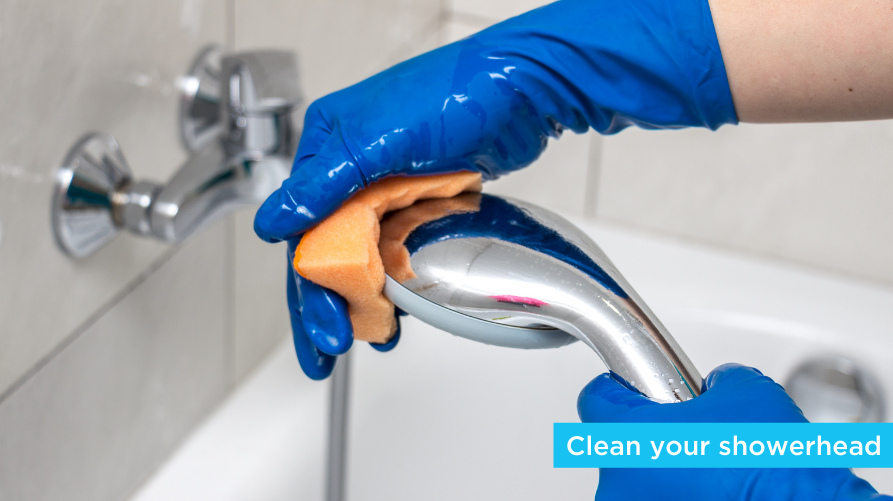 Clean your showerhead
Over time limescale can build up on showerheads affecting their performance, partially in hard-water areas.
Instead of reaching for expensive descaling products, try using more environmentally friendly white distilled vinegar. Put the showerhead in a container or bag filled with white vinegar and leave to soak for around 30 minutes to an hour depending on the finish of your showerhead.
Rinse well afterwards and enjoy a shower working to it's full potential once more.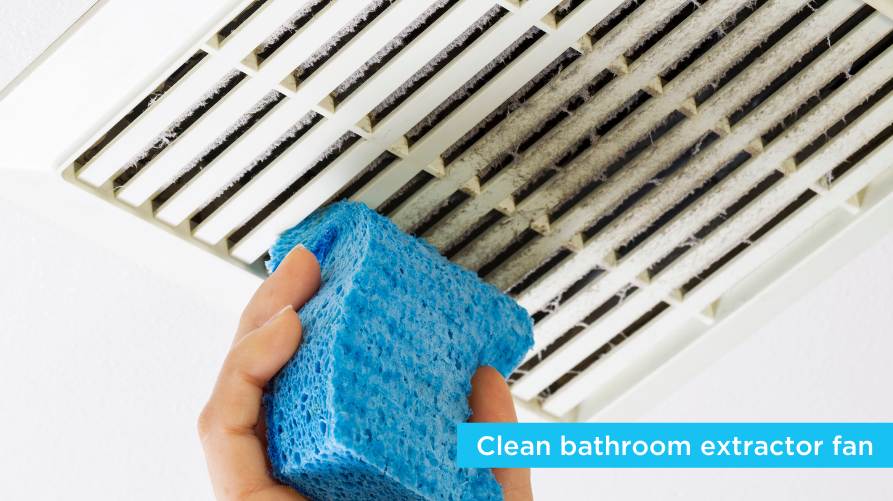 Clean bathroom extractor fan
To ensure it remains effective, keeping your bathroom or wet room fresh and free from mould, clean your bathroom extractor fan to remove a build up of dust and grime.
Make sure the power is off, unscrew and remove the cover soaking it in warm soapy water, then use a soft cloth to remove any dust built up inside the unit. Once everything has dried replace the cover and turn the power back on.
Top tip – wear protective eyewear to avoid dust falling into your eyes as you're looking up to the ceiling.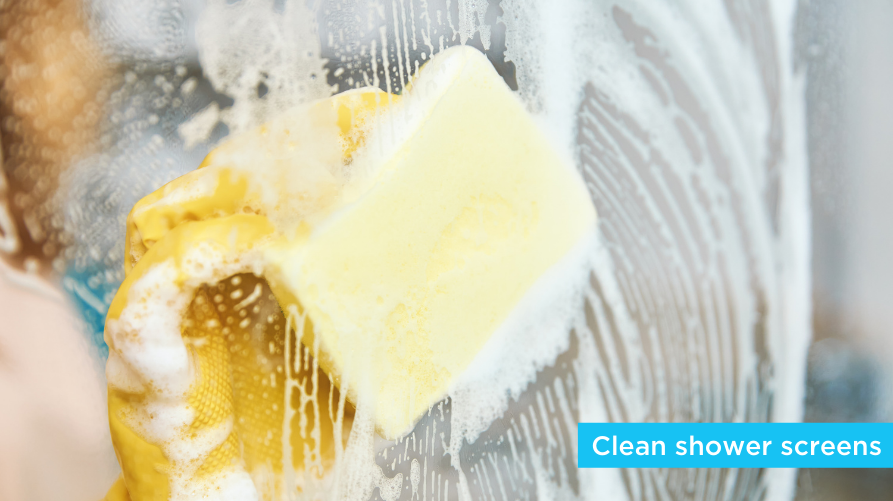 Clean shower screens
Are your shower screens, doors or enclosures letting your bathroom down? Unsightly build up of hard water spots and showering products and leave your bathroom looking tired and dirty.
There are many cleaners on the market, however we recommend using white vinegar and baking soda to get your glass gleaming once again.
First wet the glass, and then spray the white vinegar onto the glass. Leave it to work its magic for a few minutes, before dipping a washing up sponge into baking soda and using this to scrub the glass. After a little bit of effort to remove the hard water spots, rinse off with clean water and dry using a squeegee and microfibre cloth.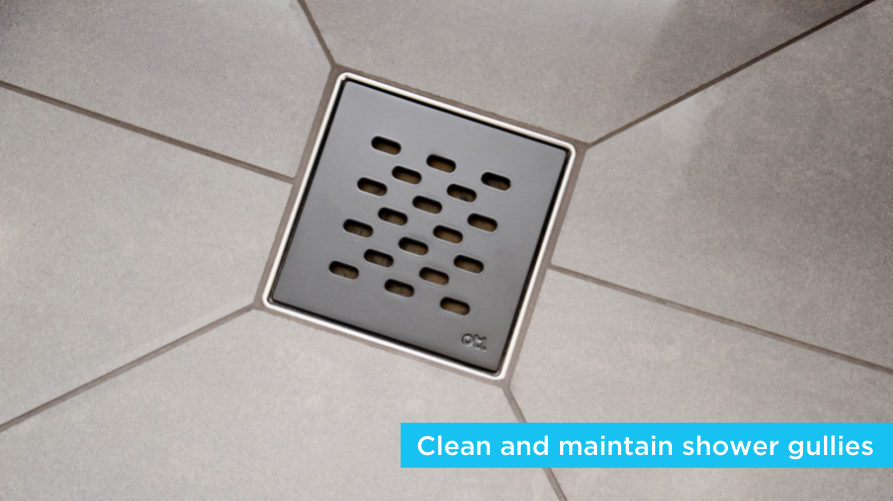 Clean and maintain shower gullies
If you have a shower room, it's important to maintain and clean the shower gullies at least every three months, following the manufacturer's instructions. For On The Level tiled floor gullies the following steps should be taken:
Remove the grid and set aside.
Remove the dip tube/sediment cup by pulling clear of the gully body.
Flush through the gully body with clean water and thoroughly clean all parts that have been removed.
Check for any surface damage to component parts and that the rubber seal on the dip tube is in good condition and correctly positioned.
Lubricate all parts with a good quality silicone lubricant.
Re-assemble the gully by reversing the above instructions.
Re-charge gully with clean water