We hope you enjoy our round up of bathroom, wet room and en-suite trends for 2021. Whatever your preferred style hopefully this provides a little inspiration for your next bathroom update.
Matt / Matte Black Bathroom Accessories
Whichever way you prefer to spell it, matt black in the bathroom is a trend set to stay and even increase in 2021. From matt black taps, showers, wet room screens, shower grates, bathroom mirrors and many other matt black bathroom accessories, used sparingly this design trend can create a striking and modern look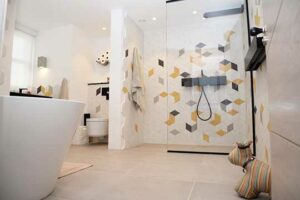 OTL Square Grate in Matt Black 
Home Comforts
As we have been spending more time at home, adding a touch of comfort to the bathroom is a trend set to grow in 2021. Scented candles or diffusers, soft fluffy towels, seating in the bathroom, make the room more than just a bathroom, but an inviting area you want to spend more time escaping to.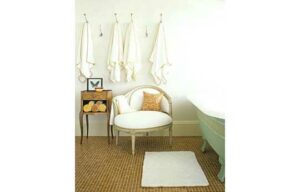 Source: www.pinterest.co.uk/apttherapy
Switching to Automatic
With an enhanced focus on increasing hygiene, taps, showers, toilets and even soap dispensers with touchless operation, will help to reduce the chance of germs spreading in the bathroom environment.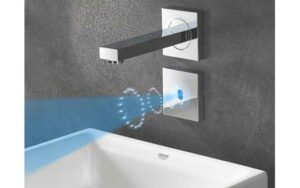 Source: Grohe 
Bold Bathroom Tiles
Make a statement, play with different patterns, colours, and shapes, to make a huge impact in the room. You can take this opportunity to really put your own design stamp on your home.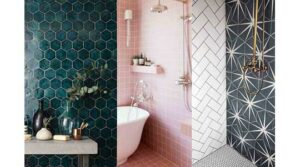 Source: Pfeiffer Design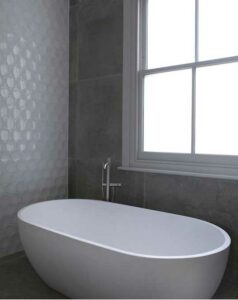 Source: Pascal Huser Design and Build 
Gold and Nickel Bathroom Details
Bring a luxurious and premium feel to your bathroom with metallic colours. An area to buy the best you can afford, to ensure the premium look and feel has the best longevity.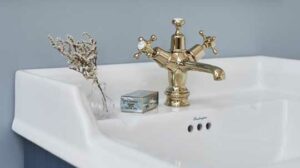 Source: Kitchens & Bathrooms News
Re-Connecting with Nature
Using natural materials and house plants will help us to re-connect with nature. The lock downs we endured in 2020 have increased our use and need for beautiful countryside, many of us discovering new parks, walks, woodlands and beaches that were on our doorstep but never before explored. Bringing elements of the outdoors into our homes helps to invigorate our minds and connect us back to nature.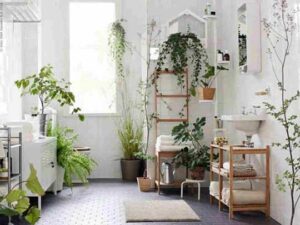 Source: Italian Bark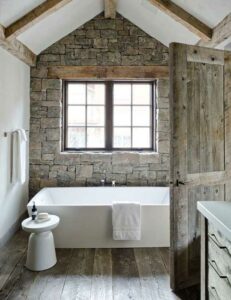 Source: Shelterness
Wet Rooms
Year, after year, the popularity of wet rooms increases, and the trend is set to continue in and beyond 2021. Suitable for the main bathroom, en-suites and loft conversions, they offer the greatest flexibility for bathroom layouts. Even the smallest of rooms can be created into a wet room.
Easy to keep clean, more spacious as the need for shower doors are eliminated, and accessible for all users with no step, and therefore no barrier, to enter the shower area.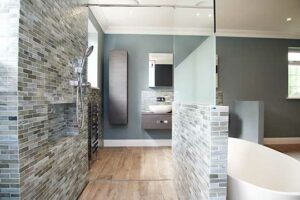 OTL INFINITY I-Line
Massage Showers
Create the ultimate home spa experience, with massaging body jets. For a relaxing and rejuvenating massage to help with any tensions or stresses, your showering experience will be totally transformed!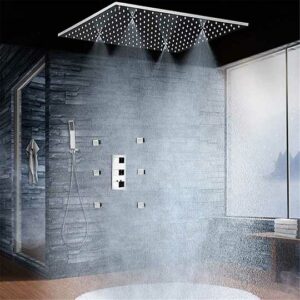 Source: Amazon
Environmentally Conscious
Choosing the right products in the bathroom, can help to significantly reduce your water consumption, which is not only good for the environment but also good for your wallet!
And also in our search for natural products we also need to ensure they are sustainable, making sure we look out for logos such as the FSC certificate, which confirms the products you choose are responsibility sourced.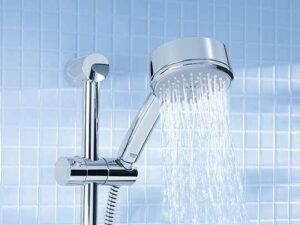 Source: Grohe
Bathrooms in Bedrooms
Taking en-suites to the next level, and blurring the lines, whether for aesthetics or to increase space, the results can be surprising.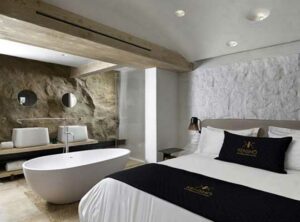 Source: KENSHŌ Boutique Hotels & Villas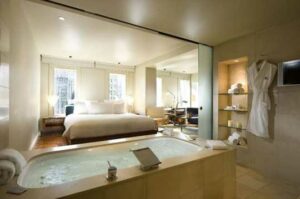 Source: Architecture Art Designs