Wet Room Floors for Project & Procurement Managers
We have over 20 years' experience working with Contractors, Project Managers and Procurement teams, on a variety of projects across various sectors. We are proud of our fantastic reputation for manufacturing high-quality products, providing excellent customer service, and solving our clients wet room design issues, with many of our clients finding us through recommendations.
Bespoke Project?
We are specialists at solving tricky design problems and creating unique, bespoke sizes and shapes.
Cad service
Call us on 01525373202 to ask about our bespoke CAD drawings service.
Fitting Advice?
Watch our easy to follow installation videos or contact our team of experts.
We've been working with project and procurement managers for over 20 years.
Here at OTL we're really proud of the high quality of our products. That's because we know that high quality is critical to the projects that our Project and Procurement Manager customers work on for their clients. Now, it's true that you can't see much of our products once they've been fitted, but you don't need to worry about something going wrong because all our manufactured formers come with a lifetime guarantee for your added peace of mind.
We specialise in precision built flooring solutions to fit any size project, with standard and bespoke options available. Our Project and Procurement Manager clients rely on us to provide formers to their exact measurements – and we don't fail to deliver. All our formers are produced within a 1mm tolerance so even if you don't see what you're looking for, please don't hesitate to get in touch to see if we can help you with your project.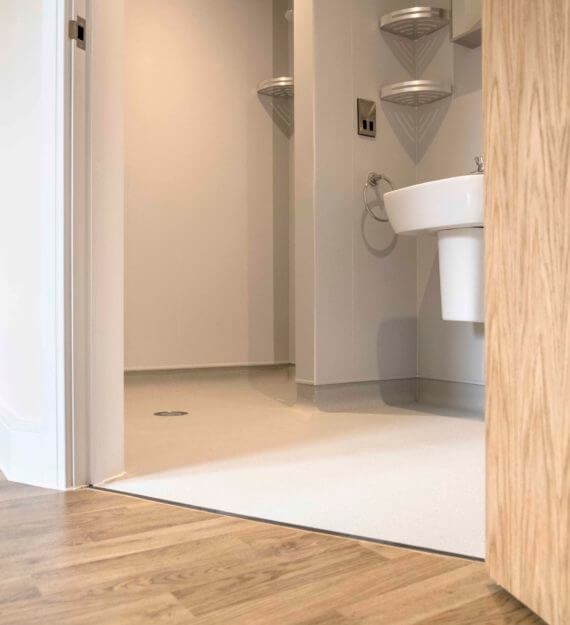 Just some of the benefits project and procurement managers find when using On The Level:
Easy installation process
Our wet room floors are easy to install, with PDF and video instructions making each step easy to understand, and a UK team at the end of the phone for any questions you may have.
We are well connected to installers who are familiar with our products should you need any referrals.
We have also created a range of products to suit Modern Methods of Construction (MMC), creating systems to manage the whole floor process, designed to decrease labour time whilst guaranteeing high levels of quality control.
For complete flexibility, our bespoke service can create a former to the exact size required for your client, and we can also move gully positions so they can be located to avoid any underfloor obstacles. There is no need to design a wet room around a product, allow us to design a product fit for your exact requirements!
Ensuring you have products available exactly when you need them is important when keeping client projects on track. We work around your schedule, ensuring a quick turnaround of your order.
Sustainable and long lasting
Our wet room floor formers are made from high quality birch ply material which is sustainably sourced and FSC Certified.
With a lifetime guarantee on our formers, we create quality products built for longevity.
Confidence in our products
Tried and tested, suitable for creating a wet room on any level within a building (from basement to loft), you can have 100% confidence in our products and our waterproof claims. This is backed up by our lifetime guarantee on shower formers and a 10-year tanking system guarantee.
Credit facilities available on request.
Ability to buy from National Builders Merchants if preferred
Our products are stocked at a number of National Builders Merchants. So if you prefer to manage your orders via one of your preferred suppliers you have the ability to buy our products through them.
Knowledgeable, helpful team ready to support you
Customer service is of upmost importance for us, and our friendly team are on hand to answer any questions you may have. With many years experience, we are also on hand to give advice on any wet room queries you may have.
Contact Us:
Fill out our contact form or contact us directly by emailing [email protected] or calling or specialised team on 01525373202:
For more information
For installation queries
To request CAD files and drawings
To get a quote
Hear what some of our clients have said about our service:
From phone call, to design, to delivery, OTL got fully engaged, were extremely helpful, very proactive in design, and very accommodating to our programme needs. Kier Ltd will 100% be using OTL in the future.
Gary Latham – Kier Regional Building, Western and Wales

With previous new builds there have been a number of problems achieving the correct fall to the drain and we have had to overcome pooling and water going into bedrooms. The OTL solution has overcome this beautifully.
Hugh Piggott – National Star College

Once again, we have been able to meet our clients design requirements and provide a bespoke wet room flooring solution, made to measure, for each accessible room at the hotel. Having worked with OTL products on previous projects, we are confident in their understanding, quality and their ability to deliver on time and the ease of fitting their products to save time for our installers.
Ian Thomas – RGB Group

I had not heard of a solution like this before, it's completely unique in the marketplace. We are used to being restricted with design and layout based on standard product sizes with little flexibility. I am however pleased to say I have been suitably impressed and any concerns I had to begin with have now been put to rest. Communication from On The Level was fantastic, their approach to solving problems, and overcoming obstacles is exactly what we needed to be able to get the project done to a high standard on a tight timescale. The NHS Trust and John Turner Construction Group have been so impressed with the wet room floor system, we are looking forward to using them again when work commences on Ward 3, the Endoscopy Unit.
Paul Buck – John Turner Construction Group

I really like OTL's very versatile timber former products. It's quite bespoke what we do and that's what they are great at – bespoke products for specific projects, even for large scale, multiple unit contracts like the latest stage of the Ministry of Defence SLAM (Single Living Accommodation Modernisation) initiative – the project that we've worked on together.
Peter Chadwick – Premier Interlink

The team at OTL proved their professionalism, inherent knowledge of their product and of the complications of the individuality of this particular project. From inception to delivery, and even into advice during install, they committed 100%. We were invited to view their entire manufacturing process to give ourselves complete faith in our ability to provide the client with a product suitable for roll out in such a prestigious building. This was an important, complicated project, and when it came down to it, On The Level delivered 100% in every way. They come highly recommended.
Project Manager – County Contractors

We have used competitor products in the past, however they have not been able to offer the same level of customisation as On The Level. I really like the construction of the OTL trays, i.e. the ply wood as opposed to the usual closed cell material used by most others, and the design of the waste. Communication from the team has been excellent, they really listened to what we needed, and provided a great quality product to fit our high-end hostel.
Tony Pull – Coble Developments Ltd