Wet Room Floors for Bathroom Showrooms
We value each and every bathroom showroom who chooses to display our products and use our wet room floor systems for their customers.
Bespoke Project?
We are specialists at solving tricky design problems and creating unique, bespoke sizes and shapes.
Cad service
Call us on 01525373202 to ask about our bespoke CAD drawing service.
Retailer Training
Monthly online training sessions available to retail showroom colleagues.
We've been working with bathroom showrooms for over 20 years.
Here at OTL we're really proud of the high quality of our products. That's because we know that high quality is critical to the projects that our bathroom showroom customers work on for their clients. Now, it's true that you can't see much of our products once they've been fitted, but you don't need to worry about something going wrong because all our manufactured formers come with a lifetime guarantee for your added peace of mind.
We specialise in precision built flooring solutions to fit any size project, with standard and bespoke options available. Our bathroom showroom clients rely on us to provide formers to their exact measurements – and we don't fail to deliver. All our formers are produced within a 1mm tolerance so even if you don't see what you're looking for, please don't hesitate to get in touch to see if we can help you with your clients project.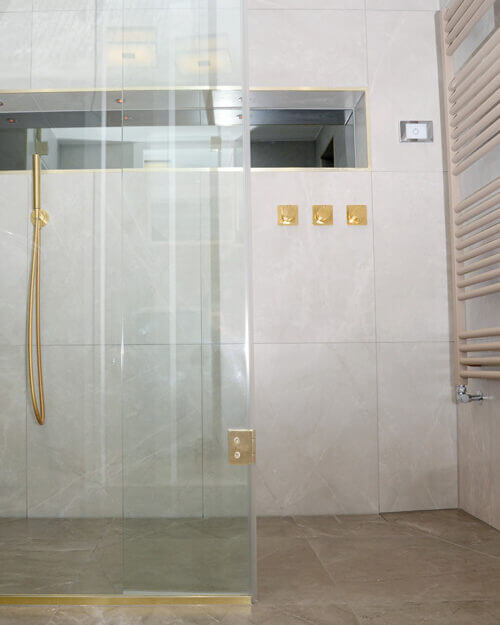 Just some of the benefits bathroom showrooms find when using On The Level:
Competitive retailer rates
Discounts for showroom displays
Credit accounts available for those ordering on a regular basis
Training, help and advice available
Products to suit all budgets
Our product range means that you can offer a high-quality solution to suit a range of budgets and customer preferences. From the more traditional and affordable Square system, a stylish mid-range Linear and SuperSlim Tile-In, to the luxurious and unique INFINITY I-Line.
Our wet room floors are easy to install, with PDF and video instructions making each step easy to understand, and a UK team at the end of the phone for any questions you may have.
For complete flexibility, our bespoke service can create a former to the exact size required for your client, and we can also move gully positions so they can be located to avoid any underfloor obstacles. There is no need to design a wet room around a product, allow us to design a product fit for your clients exact requirements!
Ensuring you have products available exactly when you need them is important when keeping client projects on track. Our stock wet room formers are available for next day delivery when ordered before 2pm, and any bespoke formers are available within just 5-7 working days.
Confidence in our products
Tried and tested, suitable for creating a wet room on any level within a building (from basement to loft), you can have 100% confidence in our products and our waterproof claims. This is backed up by our lifetime guarantee on shower formers and a 10-year tanking system guarantee.
Brochures and Merchandise
We have a beautiful informative brochure available for you to share with your customers. If you ever need any please let us know and we'll pop some in the post.
We can also offer a range of merchandise for any showroom events you are running.
We have set up an online Retailer Toolkit, which gives you quick and easy access to everything you may need, from PDF copies of the brochure and price list, installation instructions, detailed drawings of all the components, to images and guidance for social media.
Training, help and advice
We offer training sessions and regular showroom visits to ensure your staff have all the information necessary to assist your customers and create their perfect wet room.
Our friendly team are also available at the end of the phone for any queries that may arise in-between times.
Contact Us:
To discuss becoming a partner please get in touch with our team, fill out our contact form or contact us directly by emailing [email protected] or calling 01525373202.
Hear what some of our clients have said about our service:
We've been Using OTL for ever! For at least over 12 years, and it is the only system we use or recommend for wet room flooring.
Anna – Baytree Bathrooms

We chose the OTL INFINITY I-Line for our flagship display due to it being totally unique and unlike anything else available from competitors. We only push OTL products to trusted installers as we want to keep the integrity and good name of the On The Level products.
Bali Nagi – Bathe