Wet Room Floors for Architects & Interior Designers 
Working with families, individuals, and businesses to realise their design aspirations and goals, as well as creating functional, compliant spaces is a big responsibility. We aim to take some of the hassle away by providing specialist wet room floor solutions that fit around your needs.
Bespoke Project?
We are specialists at solving tricky design problems and creating unique, bespoke sizes and shapes
Cad service
Call us on 01525373202 to ask about our bespoke CAD drawings service
We've been working with architects and interior designers for over 20 years.
Here at OTL we're really proud of the high quality of our products. That's because we know that high quality is critical to the projects that our architect and interior designer customers work on for their clients. Now, it's true that you can't see much of our products once they've been fitted, but you don't need to worry about something going wrong because all our manufactured formers come with a lifetime guarantee for your added peace of mind.
We specialise in precision built flooring solutions to fit any size project, with standard and bespoke options available. Our architect and interior design clients rely on us to provide formers to their exact measurements – and we don't fail to deliver. All our formers are produced within a 1mm tolerance so even if you don't see what you're looking for, please don't hesitate to get in touch to see if we can help you with your project.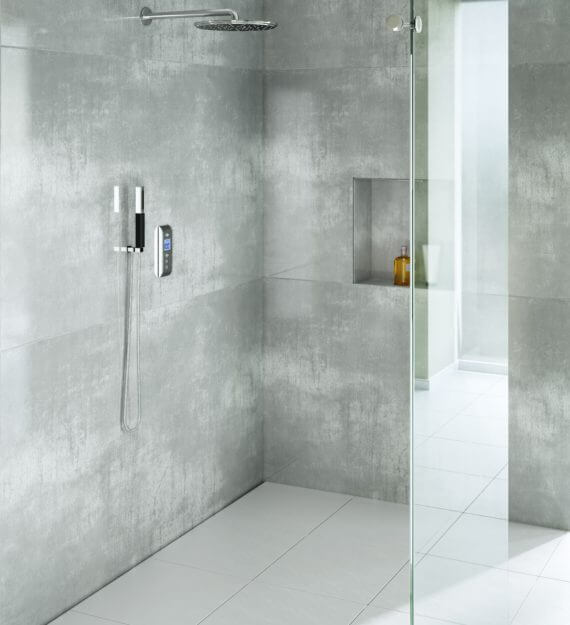 Just some of the benefits architects and interior designers find when using On The Level:
In line with the latest trends
Each year wet rooms become increasingly popular, and this trend is only set to continue as we see an increase in people adapting homes seeking more functional spaces and businesses wanting to create more accessible buildings.
Wet rooms provide fantastic benefits to maximise available space in a bathroom and provide a solution which is suitable for multiple generations and all levels of mobility.
They also create a luxurious spa like experience, something they can either enjoy in their own home, or for businesses such as hotels wanting to stand out from the crowd.
Browse through our fantastic product range, and you will be certain to find a wet room solution suitable for the look and style you are aiming to achieve.
Exclusive to OTL, the INFINITY I-Line is the pinnacle in modern wet room design, suitable for the most luxurious, high-end bathrooms which stand out from the crowd.
The SuperSlim Tile-In is a very popular product which helps to achieve a flexible, flawless finish.
Our Linear and Square products are very versatile and classic in their design.
Level Access by OTL provides a solution suitable for vinyl sheet flooring, and is particularly great in environments when wheelchair accessibility is required.
Complete design flexibility
For complete flexibility, our bespoke service can create a former to the exact size and shape required for your client, and we can also move gully positions so they can be located to avoid any underfloor obstacles. There is no need to design the wet room around a product, allow us to design a product fit for your exact requirements!
CAD Drawings & Layout Support
CAD drawings of all our products are available for you to use. We are also experienced in working closely with Architects and Interior Designers giving advice of floor layouts for optimal client experience.
Have 100% Confidence in our products
Tried and tested, suitable for creating a wet room on any level within a building (from basement to loft), you can have 100% confidence in our products and our waterproof claims. This is backed up by our lifetime guarantee on shower formers and a 10-year tanking system guarantee.
Sustainable and long lasting
Our wet room floor formers are made from high quality birch ply material which is sustainably sourced and FSC Certified.
With a lifetime guarantee on our formers, we create quality products built for longevity.
We are also very conscious of reducing waste in our manufacturing process and have been looking at ways to re-purpose plywood off cuts for a variety of different products, as well as donating un-needed plywood material to local charities and schools.
Suitable for Modern Methods of Construction
If designing a building to be constructed using Modern Methods of Construction such as volumetric and modular builds, you can be reassured that we have a wet room floor solution that is suitable and designed specifically for this construction method.
Contact Us:
Fill out our contact form or contact us directly by emailing [email protected] or calling or specialised team on 01525373202:
For more information
To request CAD files and drawings
To get a quote
Hear what some of our clients have said about our service:
It's a complete all-in-one package, unlike lots of competitors. The fact that their tray is 22mm thick is ideal – lots of the work we do is upmarket refurbishments and most people want a walk-in shower nowadays, with no visible join to the rest of the floor, but we need to work within the confines of the existing building which is where OTL helps us.
Nick Gowing – Architect

OTL provided very useful technical advice during the early design stages. The OTL resin formers provide us with confidence that water will be efficiently removed from shower areas and take the headache away from contractors trying to create their own falls. The team continued to support the project with site visits to ensure that the contractor prepared and installed the floors correctly prior to the resin floor being applied. We have since specified OTL for more similar type projects.
Jason Ralph – Martin Ralph Associates

We are delighted to have found On The Level. Communication from day one has been excellent, their advice, willingness to listen to our requirements and adapt their product and service for us has been refreshing and allowed us to meet our client's requirements and design a modern and accessible bathroom space for each student room. We look forward to working with them on phase 2 of the King's College project, and we would not hesitate to recommend them for other projects in the future.
Rob McKinley – BB&C Architects Limited

We began working with OTL 18 months ago on this project, and have since worked alongside the team there on several other bathroom POD projects. We used OTL as opposed to other sub flooring contractors as they not only offer a manufactured floor fall within the board build up, but they also offer all the guidance and support we need and want from a partner.
Tom Gray – Designer at Metechno

CDP Training
To register your interest in our upcoming CPD course, please fill out the form and we will keep you updated.