Linear formers and channels are available in bespoke sizes to fit your project
WHY MIGHT I NEED BESPOKE?
Our bespoke service gives greater versatility to our customers. We produce linear channels in almost any length and with multiple outlets as required for draining large volumes of water.
BESPOKE FORMER OPTIONS:
We can manufacturer bespoke Linear formers to any size.
Option to have a 4-way fall.
We can produce a bespoke former in a thicker material – up to 30mm thick, ideal for longer shower floors.
We can position the waste to where you require to fit with your floor build up.
For very large showering areas, we can manufacture Linear formers with multiple outlets.
DELIVERY
With a quick 5-7 working day turnaround on bespoke formers you can be sure to have the perfect former for your project without any hold ups to your project.
HOW TO MEASURE A BESPOKE LINEAR FORMER.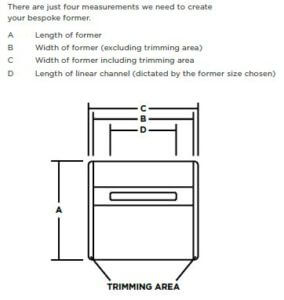 COLOUR MATCH SERVICE
The Linear is manufactured from high grade stainless steel for a timeless finish. To create the ultimate seamless finish, OTL offers a bespoke colour match service, allowing you to match the colour of the grate to your bathroom design.
DUAL-OUTLET
For extra-large projects, we can equip you with a dual-outlet channel; perfect for longer shower areas or bathrooms with high-pressure shower heads.